DESIGNED TO STAND OUT.
The new Grand Vitara is for those who seek to leave a grand impression on the world with extraordinary feats.
They strive to be the first at what they do and create a legacy for others to follow.
They share a common trait with the Grand Vitara, which can explore the unknown and be the first to discover new experiences.
With the Grand Vitara, everything they accomplish will be nothing short of grand.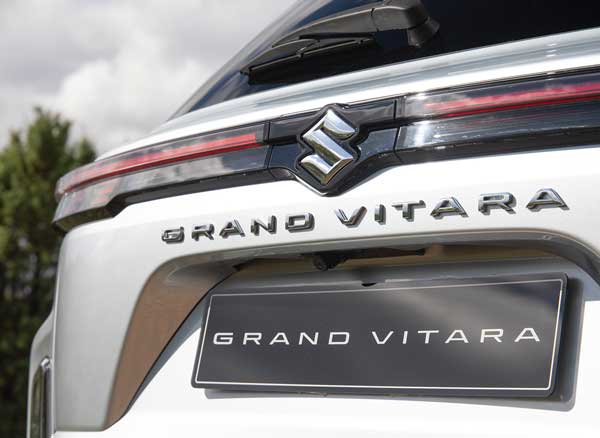 Designed to Be Strong From Inside
The new Grand Vitara has a robust interior with sophisticated styling that adds to its SUV character. It is practically designed ensuring a convenient experience for all occupants.
The display audio with a 9-inch HD capacitive touchscreen* delivers a quick and accurate response. It features smartphone linkage for both Apple CarPlay™ and Android Auto™ through USB or Wi-Fi, voice recognition, Bluetooth®** music playback and shows various vehicle status.
GRAND VITARA
Robust and Efficient Performance
Built to let you go beyond boundaries and conquer the unexplored, the Grand Vitara boasts a powerful and efficient performance enabling you to drive through and overcome different landscapes with ease.
The 1.5-litre engine delivers high efficiency, low emissions, strong output and torque. Excellent efficiency is achieved through various features. Dual injectors are placed close to the intake valves for injecting atomized fuel and the compression ratio is raised for efficient fuel combustion, the combustion temperatures are lowered and pumping loss is reduced by the cooled exhaust gas recirculation (EGR) system, and adoption of roller rocker arms for valve lifters reduces frictional speed.